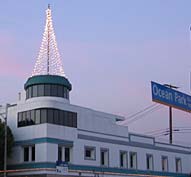 Merle Norman Building with
holiday lights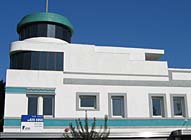 Merle Norman Building -Another view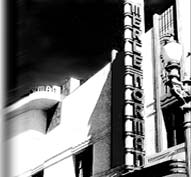 original signage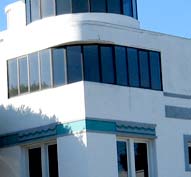 detail
This Streamline Moderne building defines this architectural movement - clean, stylish, and dynamic with airy walkways. Uniquely appealing. Architect H.G. Thursby distinguished the Merle Normam Cosmetics headquarters with a unique circular cupola. This uplifting building and successful business brought hope to Santa Monica during the Great Depression.

Notice the simple yet effective design of the property - the asymmetrical design. The use of stucco, glass block and metal. It is unique, yet blends with the classical design style of the Ocean Park Library next door, and the First Roy Jones House across the street. Do you notice the flow of the property, and its industrial stylings. It offers classic Streamline Moderne styling.

Founded in 1931, Merle Norman Cosmetics Inc. has developed, manufactured and distributed its own full line of skin care and color cosmetic products since the Great Depression. They are sold at more than 2,000 independently owned and operated Merle Norman Cosmetic Studios in the United States and Canada.

Even before she opened her first studio in Santa Monica in 1931, Merle Norman's philosophy of "Try Before You Buy" was being carried out as she offered free samples of her products to neighbors, hoping they'd discover the benefits and return as paying customers.

This philosophy worked, and when Merle Norman cosmetics opened its doors, its interest in the neighborhood helped the business prosper immediately.
The Merle Norman line includes hundreds of products, addressing the full spectrum of skin care and color needs for all women. Using state-of-the-art technology and the finest ingredients available, the company is proud of their pioneering use of advanced formulations.

Merle Norman Cosmetics have been franchising their unique approach to beauty since 1989. They have been well received, with the franchisor remaining a privately-held, family-owned company with more than 450 employees.

As a business, Merle Norman Cosmetics has been recognized as one of America's top franchise businesses by Entrepreneur magazine. Merle Norman is known for its rock-solid dedication to providing Studio Owners the most extensive support in retail cosmetics.

In 2002, a Merle Norman Cosmetics Studio opened at 729 Montana Avenue, in a terra cotta Spanish style building.

"Santa Monica is very important to us. It's where we started," noted the company's CEO Arthur Armstrong at the ribbon cutting ceremony.


**

An interesting note:

Did you know that Merle Norman Cosmetics are preferred by morticians because it goes on thick and easy?

E.G.