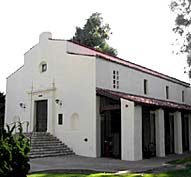 Miles Playhouse, 1929
1130 Lincoln Blvd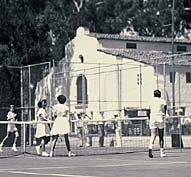 Tennis Group in front of Miles Playhouse, March 11, 1950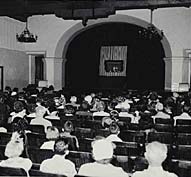 Puppet show, Miles Playhouse, 1955
Del Hagen Studios - SMPL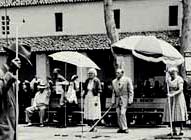 Shuffleboard at Miles Playhouse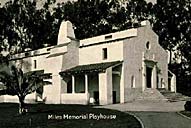 Miles Playhouse - SMPL image
Fully restored in 1998, the Miles Memorial Playhouse is one of Santa Monica's most treasured historical landmarks and perhaps its least-known performing arts venue. Designed by Santa Monica's favorite local son, John Byers, this Spanish Colonial Revival building is constructed with stone tile and stucco sheathing, and is capped by a tiled front gable roof. The ornate elevated entry is surrounded by pilasters and cornice. The Miles Memorial Playhouse was gifted to the city of Santa Monica in the last will and testament of former City Councilman J. Euclid Miles. (Miles is also credited with founding another landmark property; the Mayfair Theatre at 214 Santa Monica Blvd. Councilman Miles left $25,000 to the City to erect a public recreation hall as a memorial to his daughter, Mary. It was to be dedicated to the young men and woman of the city).

Set in the heart of Christine Emerson Reed Park, at 1130 Lincoln Boulevard, after the Northridge Earthquake, the city renovated and rededicated the playhouse with jazz, dance, theater and entertainment performances appropriate for Santa Monica's youth and their families.

Among the resident non-profit children's theater groups that call the Miles Playhouse home are the Troubadour Theater Company and the Virginia Avenue Project. Tim Groff is producing director of the Troubadour Theater Company, notes, "The whole point of the Miles Playhouse is to benefit children."

For programming schedules or additional information regarding the Playhouse, please call 458-8634.